It takes 2 seconds to say yes to an AI assistant and just 2 weeks for it to de-stress your team
There is a way. To quickly and flexibly get your customer service teams out of the daily grind that's wearing them down.
If the dream is to have a team full of the brightest employees, or even just enough people fully trained with the knowledge you need them to have, we hear you. There's a reason why you (and so many organisations) haven't been able to turn that dream into reality yet.
You're too busy fighting fires.
You're making the most of the resources you have and having meetings about how to fix your customer service problems, but you're also dealing with unhappy team members daily. Overwhelmed and, so, frequently missing calls and messages, your customer service team is bogged down by not being able to do their best work. And the customers they're speaking with are taking note.
Then, you're dealing with unhappy customers too. Because things are late, or wrong, or haven't been dealt with at all. That bad impression soon rubs off on your brand, and you, and your team.
It slowly but surely burns through morale.
And you can't go on like that forever.
Hire an AI assistant to take on 85% of your routine tasks
When customer service teams are struggling, the usual plan is to hire in more team members and get them trained up as soon as is humanly possible, but it often takes more time and costs more money than you'd like.
If you take into consideration holiday and sickness pay, plus a pension payment, HR onboarding and training costs, equipment, travel expenses and tax, the true cost to hire a customer service agent on a standard salary of £19,000 per year is more like £26,000* (an extra £7k) – thousands more if you include a bonus and health insurance.
Hiring people can be fraught with difficulty too since anyone you take on becomes a part of your company culture and it's not always going to be a good fit. They might not like the role or adjust to the expectation.
It's a lot for you to contend with all at once.
But with one of our AI assistants, you've got a faster, easier, cheaper option. Using it to answer more calls and messages from customers, 24-hours a day, with accurate information 100% of the time.
Starting today. Or whenever you like.
Whatever industry you're in.
Leaving your team more time to handle the more complex or sensitive issues for your customers, like the calls that need a reassuring tone or would benefit from a laugh. Or messages that call for a kind response or a strategic reply.
Once the fire-fighting is under control, you can start making long term plans for your business to improve efficiency, enhance the customer experience (CX), and increase your revenue. Making sure your team is happy. Your customers too. And you can finally start to feel like you have a bit of room to breathe.
* Source: Cast UK
Feel your stress drain away and improve customer experience (CX) instantly
We can get you up and running with your AI assistant straight away for free. From there, you can stay on our free plan for an unlimited amount of time, so you don't have to feel tied in or tied up or tired out by the experience.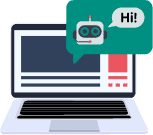 Tell us what industry you're in and we'll give you an AI assistant that's trained in that area (or start from scratch). Name it, give it an avatar ― really make it your own!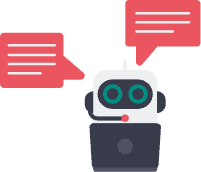 You'll see default questions and answers relevant to your industry that your AI assistant will use and that you can edit, or you can write your own. Add more any time.

Put your AI assistant live on your website, on your contact or product page, and start batting away the routine enquiries you receive daily.
Use our advanced platform to inspect the types of conversation your AI assistant is having with your customers and train it yourself, so it's always improving.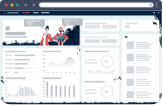 Straight away you'll start to see patterns on the dashboard and know which areas you need to work on. Our expert team send you suggestions for improvements, which you can easily add or reject.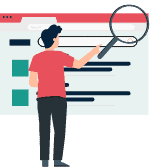 We review every conversation for you, to see what's frustrating people or confusing them, so we can eliminate the bottlenecks.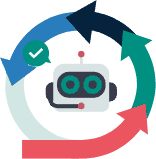 From day one, your AI assistant is trained on routine enquiries and quickly starts to learn about more complex processes to help you out more and more as time goes on.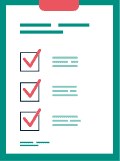 Once you're up and running, connect your AI assistant with your business systems so it can answer queries like any other member of your team, becoming an expert in everything you do.
Get started today! You don't need any technical know-how to use our platform.