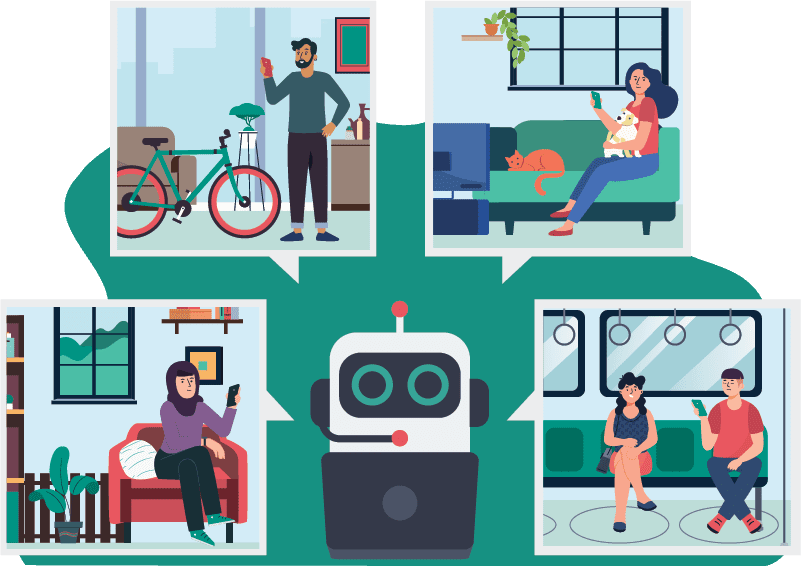 Loss. Injury. Damage. Insurance isn't just a monthly or yearly premium. It's noticeable support in unsettling times and your customers need to know they're covered if the worst thing happens. So you're dotting the i's and crossing the t's with no room for error and that's where artificial intelligence can help you out. More specifically, conversational AI. Because when you're dealing with people's biggest worries or fears, talking it all through is important.
Powered by our advanced conversational AI platform, an AI assistant can help your customers with everything from getting a quote for insurance to claiming for accidental damage. Your customers can chat on any channel they're most comfortable with, be it a social media messaging platform, your website or mobile app, phone line or SMS service. The best bit is that we can pull in information from your live policy system. Any information your AI assistant gives to your customer is then personal to their policy, plus it's already approved by your legal team.
Like your own insurance analysts, we're constantly looking at facts and figures. We review every conversation your AI assistant has with your customers (minus personal data, like a name or policy number, to keep it safe). Our team of conversation designers, psychologists and linguistics experts calculate the success rate of every interaction so you can rest assured your AI assistant is always safeguarding your reputation.