Clunky, outdated systems? Conversational AI is the fix for local councils who want to go digital now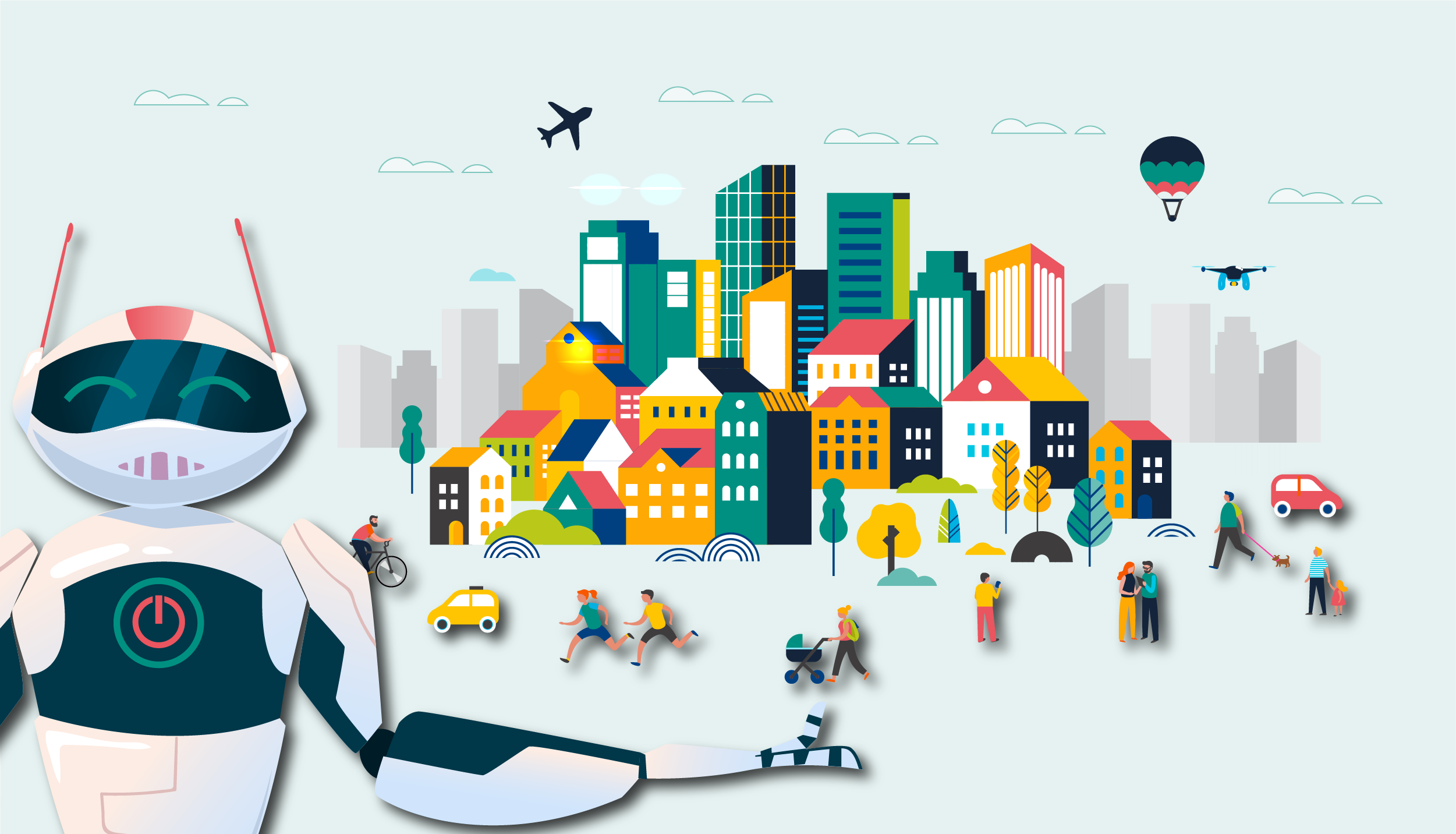 Clunky, outdated systems? Conversational AI is the fix for local councils who want to go digital now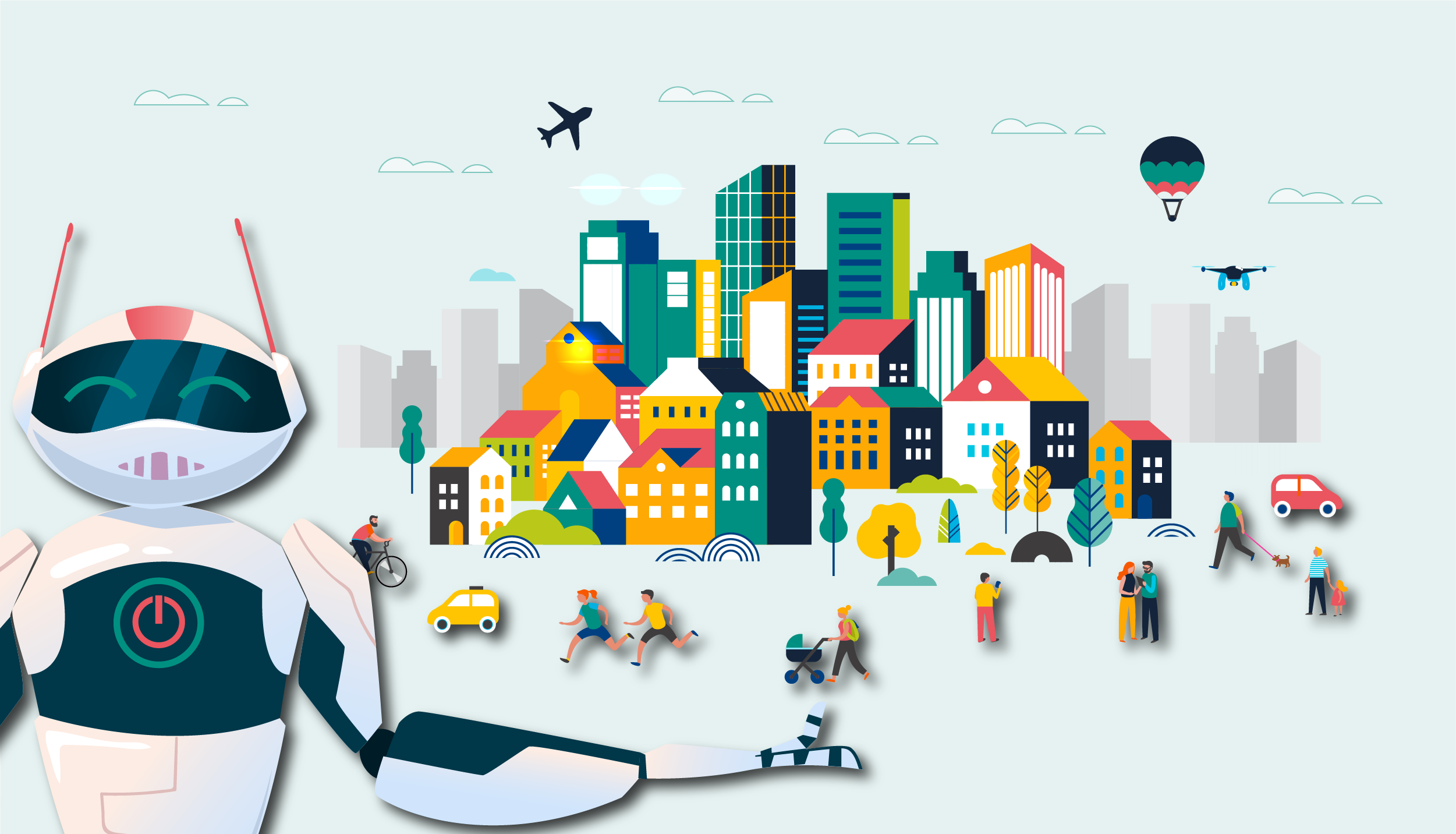 Ever feel like your job title is Chief Wader Through Treacle? Citizens, as your customer, ask questions, and answers exist somewhere. But linking up your community with the right information―quickly―isn't always easy. Sure, local council bureaucracy is the butt of an old joke, but for you, it's your everyday reality. You're working with old processes and tired systems that don't hang well together. Customers feel frustrated and irate when they don't get what they need. And who handles the fallout? You. This is why we've created your AI to make the public sector better for everyone using our advanced artificial intelligence platform.
Local councils all over the UK are struggling―right now―with the same challenges you're trying to bat away with a giant club. Pushing your old-fashioned, laborious processes into a digital network that is faster and easier to maintain. It's hard going to drag yourself out of those legacy systems. They're as steadfast in your community as the public library or the Town Hall. But with conversational AI, you can become as efficient as your most methodical worker:
Become more proactive in handling enquiries from customers
Create real, identifiable change for your community and the people you serve
Rekindle your good intentions to do what's best for others
And rediscover your heart, sitting in the right place
You know that new technology has shunted the old systems out of the way already ― our world has changed. But with conversational AI, you take control of the changes you make to the way you work today; alongside other UK councils who want to use AI now. For example, read the case study about Coventry City Council who was the first to sign up for here.
Conversational AI that not only signposts your customers but resolves their query too
Our conversational AI platform takes the questions your customers ask and gives them the information they're looking for ― instantly. It integrates with your back-office systems too, so you can carry out transactions, look up information, or personalise the service for each citizen.
There's no human error. No delay. No filling out forms. Just a fully trained digital assistant helping your customers in the way you want it to.
Even better, our AI is a network of local councils. So every time one council finds a better way to follow through on a query, you can do the same since members of all share the same learning. You figure out what your customers need from the AI and we find a way to make it happen via our advanced AI platform.
If you're ready to go digital now, it's exciting and less daunting for local councils to go together.
Introducing AI to local government is easier with the right support
Using out conversational AI platform, your digital assistant can be trained to do whatever you need it to do. From recognising your most frequently asked questions and answering them, to handling large, complicated workflows. But our AI is about local councils bringing in a big change together, so you never feel like you're out of your depth. There's always another council in our AI reef to swim alongside you.
Every council benefits.
All at the same time.
This means you all get to where you want to be faster. Plus the cost is split between councils in the group, so you spend less money on developing your public sector AI.
AI that is exclusive to you in the public sector
Our world-leading AI software is used in lots of different industries all across Europe, but we know you're dealing with different pressures in local government:
You have tenders to navigate
A duty to spend public money wisely
And a need to engage with your customer
That's why Community AI is unique to local councils. Tackling your precise needs.
And you'll be pleased to hear that our AI platform is a managed service. That means we do ALL the stuff you don't want to do:
GDPR
Legislation
Reviewing and analysing conversations to check everyone is accurate
Accessibility and making sure your AI is useful to everyone in your community
Updating your systems
☝️ That's all us. We manage the technology.
Conversational AI turns your struggling local council systems, now heaving and stuttering even harder from the effects of a global pandemic, into a well-oiled spontaneous machine that just runs. But you're the best person to get the most out of your AI. Using the deep knowledge you have of your customers (and local events) to develop a truly useful AI assistant. We're there in the background. Cheering you on. But, crucially, making your work life easier.
3 instant improvements to your working day with conversational AI 
Customers will chat to your AI in real-time, just as they would if it was you at the end of the phone. Because the AI assistant we create for you isn't a useless chatbot that leaves people feeling frustrated.
To imagine your new working life with a digital assistant in tow, here are just three things that will turn your working day around when you're a part of community.
1. You know those questions you answer all day? Every day?
The ones that make you groan with recognition:
"Why haven't my bins been collected?"
"Who do I report a pothole to?"
"I can't pay my council tax?"
We call those 'use cases'.
You'll have your own list of the use cases you want to tackle first at your council, so when one of your customers asks the question, your AI answers it instantly, so you don't have to.
We manage your use case requests with a simple points system. You choose the use cases that your customers need the most and use your points to add them to your AI. All members share the same use cases, so you can all improve your services together. And in sharing use cases, you share the costs of them too.
2. Your AI assistant never stops growing
On our advanced platform, you're able to watch your AI grow in real-time. The more questions it takes from your community, the more you learn about the types of questions people ask and how often. How do people phrase the same question differently and how urgent is their need? The more your AI learns, the more useful it can be to people. And everything your AI learns, you learn too. But you learn faster than you ever could with only human interactions. Since your AI can have multiple conversations while you're busy handling one.
If 150 customers ask where their local Covid-19 testing centre is, you'll see that straight away with live data at your fingertips. If you don't already have a use case for Covid test locations, you can add one.


That's 150 fewer queries to answer. And 150 more people on their way, right now, to get their Covid test. Because your AI told them, instantly, where to go.
Or if there's a change coming in for recycling services. Add that as a use case before you make your announcement. When the barrage of questions that you know will hit comes in, your AI is already programmed to answer them.
You don't need to do a thing
3. You get to choose which use cases you add to your assistant, but you can also link up your digital assistant to your other internal systems.
Say you want people to pay their parking fine online using the assistant, but you need their registration number…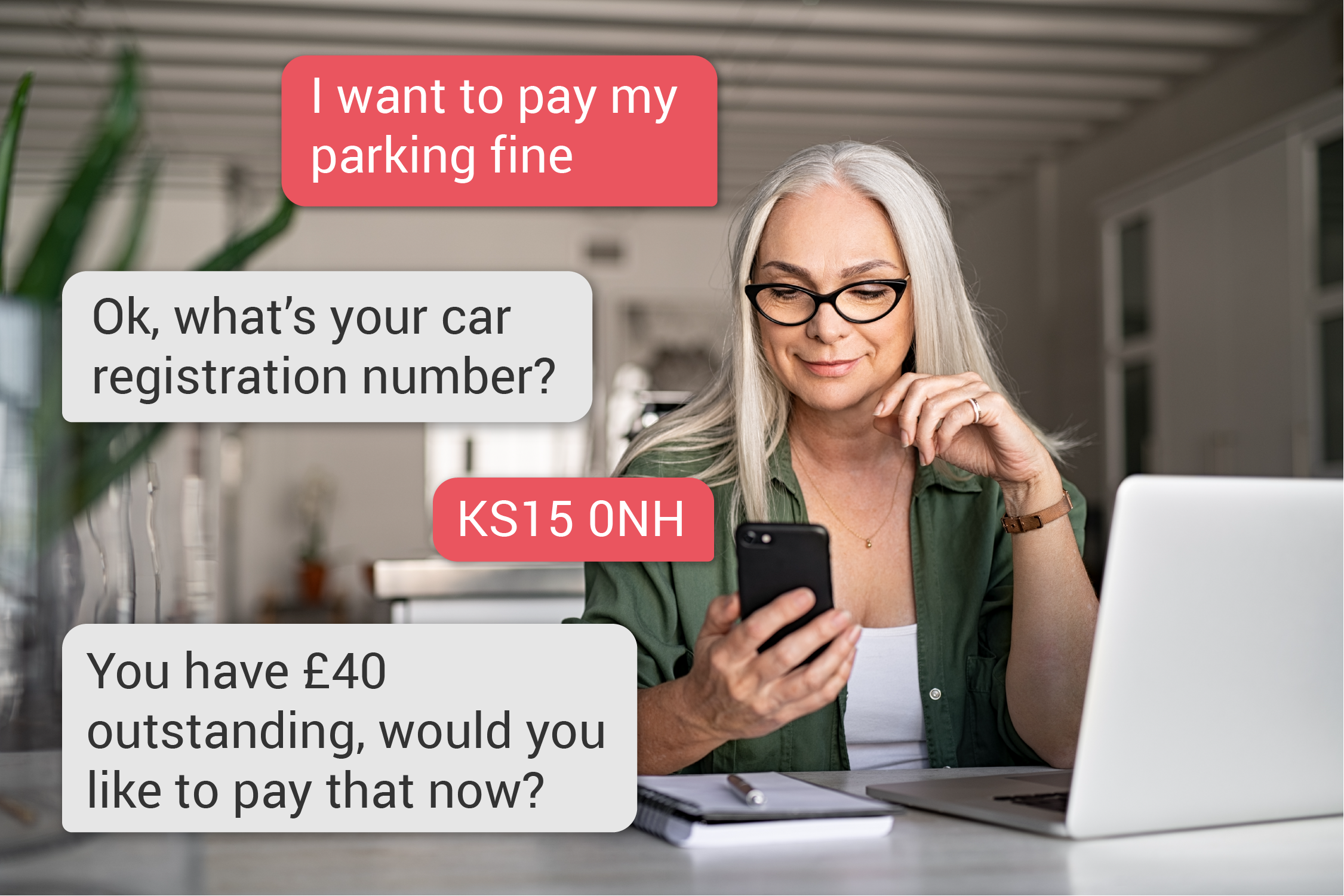 We can do that on our platform.
You want customers to be able to let you know about a missed bin, but give you their postcode at the same time?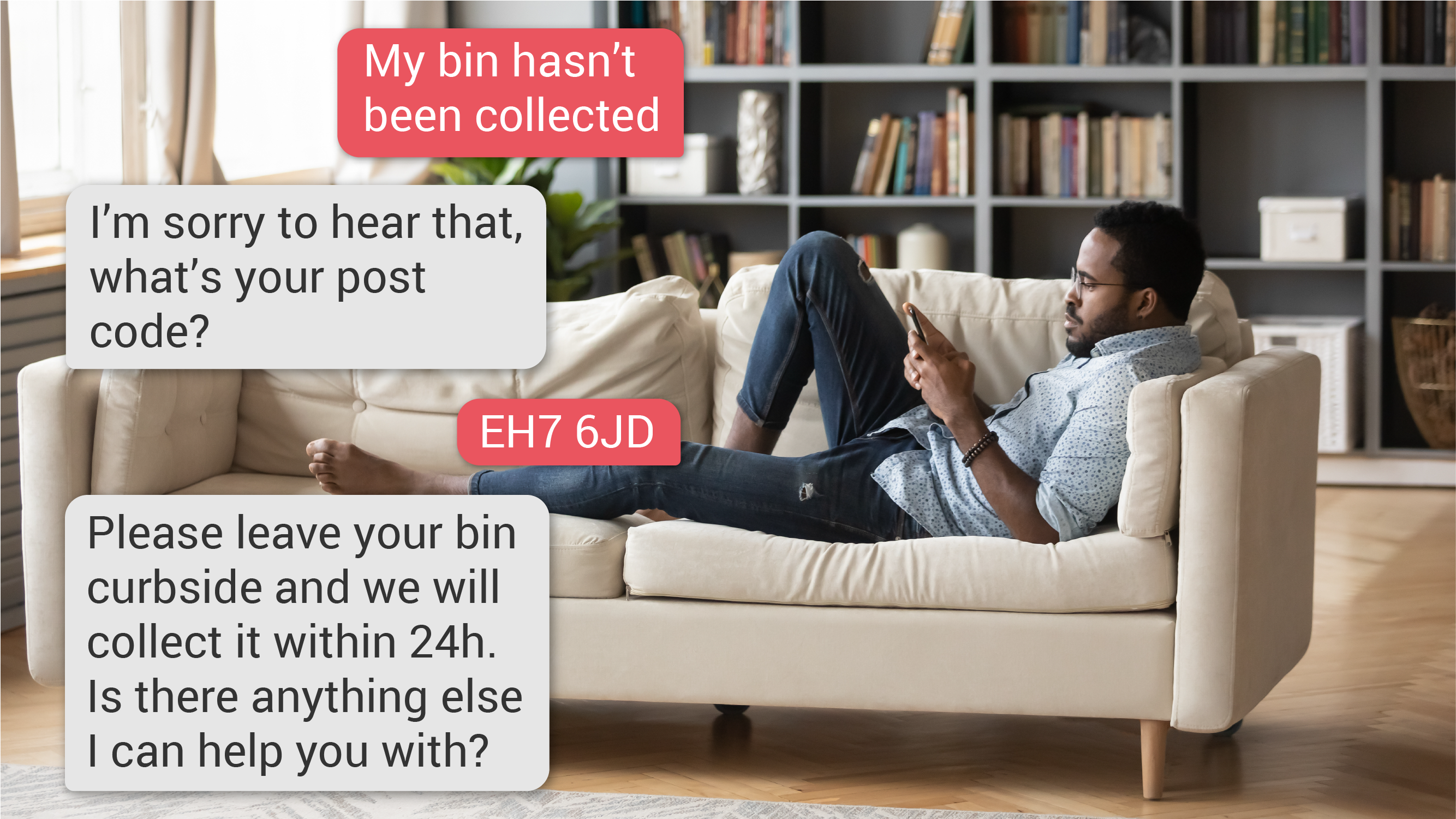 ✔️ ― we can do that too, using AI.
Once you're on our advanced platform, your AI deals with all the everyday questions you could answer standing on your head and with your eyes closed. You'll be free to start thinking about exciting new ways to handle the more complex queries. Using AI to engage with your customers in ways you've never been able to do before.
3 communities of people who all benefit from conversational AI
You can use AI to reach as many of the people as possible who are connected in some way, no matter how small, to the work you do every day.
1. Whether you're the neighbour of another local council or at opposite ends of the country, you're dealing with common issues daily: rubbish, recycling, Council Tax, and more. This means your digital assistants will deal with the same common issues too.
Why would you all repeatedly reinvent the wheel? Conversational AI allows you to share ideas with other local councils.
From day one, you can sign up with the foundations of your AI assistant fully formed and ready to run. You'll then mould your AI into what you want yours to be, with other councils able to adopt your use cases for themselves and vice versa.
2. Conversational AI is about talking more and getting to know people better.
Conversational AI not only helps you get closer to other local councils in different geographical areas but to other departments within your own local offices.
Using AI, Highways can adopt the same system as Revenue and Benefits. Council Tax queries are handled in the same way as questions about recycling. Every department working together to go digital now without it feeling disjointed. Confusing. Or hard work.
Our team of Conversation Analysts continually check through your conversations too. This human touch means customers always have the most accurate information, instantly. Which increases people's trust in your local council and every department within it.
3. When answers come quickly, with greater accuracy and no waiting around, people notice.
The person whose last email was forwarded to the right department but not followed up. Who then had to call in. Only to have their email forwarded on again and still not get an answer. That person has a better experience when your AI gives them an instant answer online. You answer fewer calls too and spend less time going back and forth with other departments.
And because your AI assistant is having direct conversations with your customers 24/7, through the night and day, you learn more about what they want and expect from their local council. You can use this information, coming straight from the horse's mouth, to make better, faster decisions for the people who rely on you.
All of your simple or most common complex queries can be dealt with by your AI. That leaves you with more time and energy to focus on members of your community who need extra care and attention, struggling with sensitive issues or dealing with complex problems. You'll finally be able to concentrate on the problems that need your experience, knowledge and empathy to solve them.
No more trying to survive, use conversational AI to thrive
We know living and working with Covid-19 has been especially tough on public sector workers. Like you, we want things to get better. So let's start by making life easier for you at work. And for your customers out in the community. Let's give them the amazing experience they deserve from their local council. And let's do that side by side with your neighbouring councils to share what we learn to grow stronger and better, together.
Take a deep dive with us
We'll show you how AI can make your life easier with a free, personalised workshop tailored just for your local council.
Using AI to help with the job you do daily.
To serve the people in your community 👇
Book a demo
Want to see how our platform works? We'd love to show you!